News
Concierge Team Helps Members Navigate Healthcare and Take Full Advantage of Their Benefits
Date: 12/08/17
Sunrise, Florida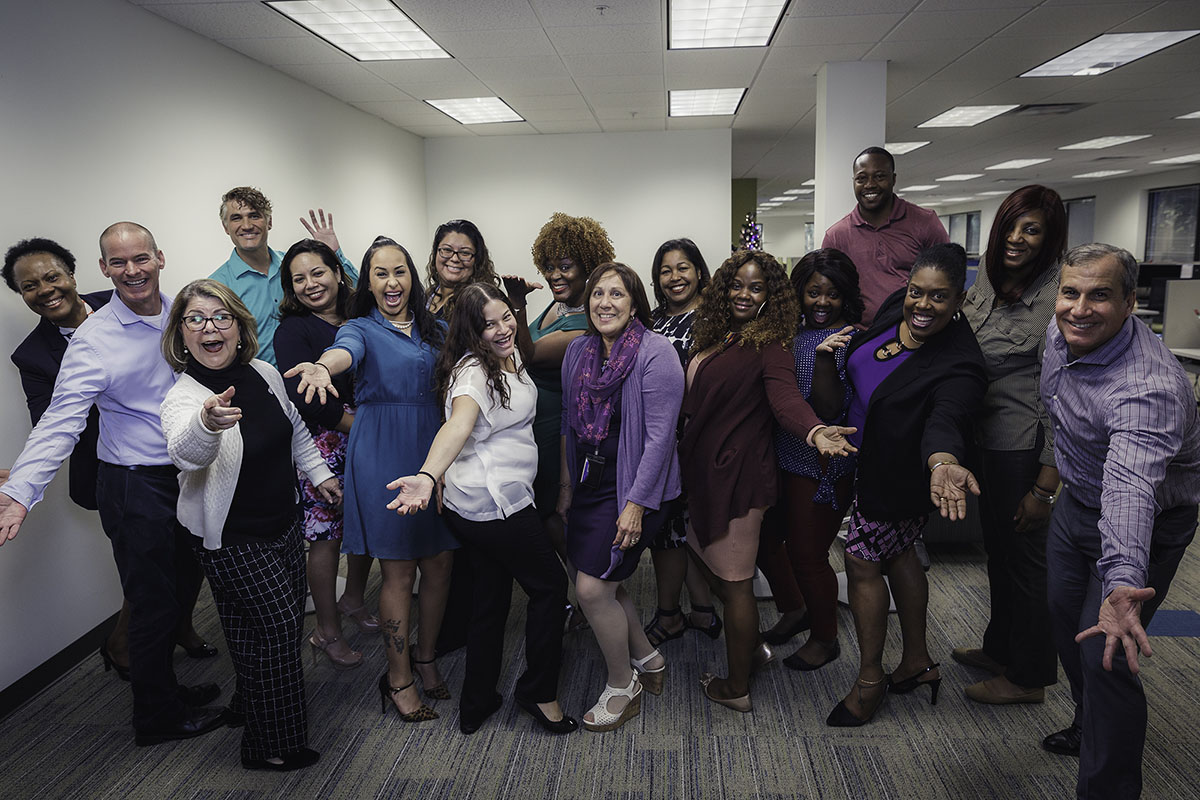 We understand that healthcare can be confusing, and how easy it is for life to get in the way of regular checkups.
That's why we created Sunshine Health's Concierge Team. This dedicated 20-member team helps members take advantage of their healthcare benefits and optimize their health with regular checkups and screenings.
In its first year, the team assisted more than 27,700 members with services such as scheduling an annual checkup with their primary care physician (PCP), performing a quick health assessment, or informing them of recommended screenings such as mammograms and colonoscopies.
Our Concierge Team members are called advocates, and they aren't much different from hotel concierges; their mission is to help members navigate unfamiliar territory – in this case, healthcare.
The team was formed in September 2016 to improve quality and increase utilization of preventive health services. The team assists hundreds of members every day. For example, last month they helped more than 1,400 members take charge of their health by scheduling appointments for them with their PCPs.
"Just one year in, we can say it's an overwhelming success," said George Castaneda, manager of Customer Service. "When we started, we had an engagement rate of about 28 percent. We're now at 42 percent. We're a pretty small team; to make such a big impact speaks volumes."
The team defines engagement as any direct interaction with a member. For example, the team sends hundreds of emails and leaves hundreds of voicemails per month, but those are not included in the engagement rate.
The team's favorite measure of success comes from members themselves.
Concierge Team Advocate Katherine Llopiz recently received this thank you note:
"Katherine saved my life today! Katherine was fun, happy and fast. She helped me book appointments for my daughter's dental and yearly physical. Katherine also clearly explained to me my daughter's benefits and how the healthy behavior rewards program works. I haven't had customer service like that before, Katherine was excellent!"
Helping members navigate the system allows them to focus on their health, Llopiz said.
"Just the other day, I was contacting a member regarding his yearly doctor's visit," she said. "I came to find out he was a cancer patient and was having trouble finding a pain management doctor. He'd been going around in circles for more than a month. He'd find a doctor, then by the time he'd reach them, he'd find out they were no longer accepting the insurance. We were able to do the work for him."
Member Advocate Nathalie Harris is grateful to be able to make a difference in members' lives.
Harris makes about 50 calls a day, connecting with about 15 to 20 members. Before making the calls, she makes sure members still belong to the plan, reviews any recommended services they need and checks to see if they have any unused incentives, which are financial rewards that Sunshine Health gives members for engaging in healthy behaviors.
Sometimes, people don't want to take her call – at least not at first.
"Some people just don't want to hear from an insurance company, or they assume there's a problem. We try to put them at ease."
Llopiz agrees.
"A lot of people think we're telemarketers," Llopiz said. "But we let them know we're calling to help."
Members embrace the help once they understand, Harris said, especially when they learn they have unused rewards in their account.
"I've had people who have accumulated $300 or $400 in healthy rewards and don't realize it," she said. "I let them know they can use that money to buy important necessities like diapers or over-the-counter medications. As long as they are still with our plan, that money doesn't go away."
In addition to making doctors' appointments, advocates remove barriers that keep members from being able to get to the doctor.
They can arrange free transportation to medical appointments, and can accommodate caregivers or children who need to accompany them.
An interpreter can also be sent along to the visit if needed, free of charge.
The hardest part of their job is often just connecting with members. Members move or change phone numbers and may not remember to update their contact information.
"Sometimes numbers are disconnected and we're calling dozens of doctor's offices before we track them down," Llopiz said, "but when we finally reach them, we're often able to help them find a new PCP near their new neighborhood."
One tool that makes the advocates' job a little easier is Interpreta, an analytics engine they use to research members before every call.
"It shows us care gaps, lets us know if a member is missing a yearly vaccine," Llopiz said. "But we're not just here to close care gaps. We're here for the member's overall good and Interpreta helps with that by giving us a full picture of the member's needs."
What's next for the Concierge Team? Expansion! The team will soon add four new advocates, which means they'll be able to assist an additional 200 members each day and increase the number of people they're connecting to physicians by thousands.
Happy First Anniversary, Concierge Team! You are helping us transform the health of the community, one phone call at a time.