WellCare/Staywell Members: Sunshine Health Welcomes You!
As a Sunshine Health member, you will continue to get the same great healthcare coverage you need. Plus, you'll get more benefits and a larger, stronger network of doctors and hospitals you know and trust. Through this transition, we are committed to adding more value to better serve you.
You have a choice for Medicaid coverage. Choose Sunshine Health.
Sunshine Health knows that living as independently as you safely can is important to you. We can help you understand your options, which could include moving from a nursing home to an assisted living facility, moving to a relative's home, or making your own home accessible.
Our nursing home transition program includes:
OUR SPECIAL BENEFITS
Our plan offers comprehensive physical and behavioral health services and programs, tools and supports to help you and your caregivers improve your health and quality of life.
SEE ALL BENEFITS
FIND A DOCTOR
Sunshine Health is proud to partner with doctors in your area. See our list of network providers.
SEARCH NOW
The state's Long Term Care (LTC) program provides nursing facility services and home and community-based care to elders and adults (ages 18 years and older) with disabilities. Home and community-based services help people stay in their homes, with services like help with bathing, dressing and eating; help with chores; help with shopping; or supervision.
Sunshine Health pays for services that are provided at the nursing facility. If you live in a Medicaid nursing facility full time, you are probably already in the LTC program. If you don't know, or don't think you are enrolled in the LTC program, call Member Services. We can help you.
The LTC program also provides help for people living in their home. But space is limited for these in-home services, so before you can receive these services, you have to speak with someone who will ask you questions about your health. This is called a screening. The Department of Elder Affairs' Aging and Disability Resource Centers (ADRC) complete these screenings. Once the screening is complete, your name will go on a waiting list. When you get to the top of the waiting list, the Department of Elder Affairs Comprehensive Assessment and Review for Long-term Care Services (CARES) program will ask you to provide more information about yourself to make sure you meet other medical criteria to receive services from the LTC program. Once you are enrolled in the LTC program, we will make sure you continue to meet requirements for the program each year.
You can find the phone number for your local ADRC using this map. They can also help answer any other questions that you have about the LTC program.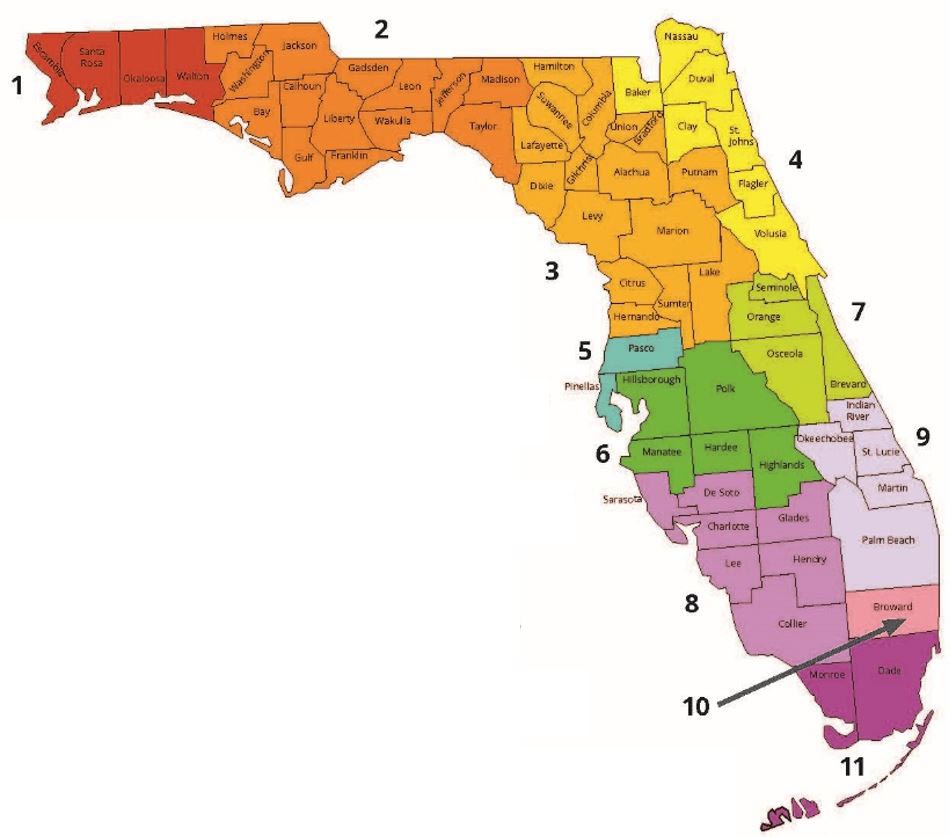 How to Apply
To enroll in Sunshine Health, you must be eligible for Florida Medicaid. If you are eligible, the Agency for Health Care Administration (AHCA) will send you a letter asking you to choose a plan.
Visit the Florida Department of Children and Families website to apply for Florida Medicaid.
APPLY FOR MEDICAID
Enrolling and Choosing Sunshine Health is Easy
Apply for Medicaid.
Receive a letter to choose a plan.
Choose a plan.
Call a Choice Counselor toll-free at 1-877-711-3662 (TDD/TYY 1-866-467-4970) or visit the Statewide Medicaid Managed Care page online.
Receive a welcome packet from your plan.
CHOOSE SUNSHINE HEALTH