News
Promoting Inclusion with National No One Eats Alone Day
Date: 02/09/18
Jacksonville, FL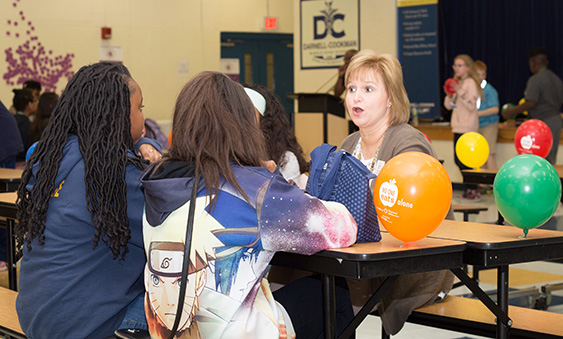 More than 900 middle school students rushed into the cafeteria at Darnell-Cookman School of the Medical Arts on Friday for "National No One Eats Alone Day," a Centene-sponsored initiative created by the not-for-profit Beyond Differences.
Then, we asked the kids to mix it up – to move and sit with someone they didn't know.
The students, in grades sixth through eighth, were excited as they scrambled to sit with others. We joined them to get their conversations started, but we didn't need to – the kids were well prepared to make new friends.
"On Thursday we all wore purple and started decorating," said Principal Dr. Tyrus Lyles, whose school draws kids from all over the Jacksonville area. "The kids are very accommodating and understanding of diversity. They are allowed to be who they are and they are proud to be who they are while they are here."
The school's spirit of inclusion was evident when Stacey Davis, a Sunshine Health provider network specialist, joined three girls at their table. They sit together nearly every day, they told her, even though one girl prefers to not say much. She enjoys being there and they enjoy her company, the girls explained.
Sunshine Health's Community Relations Representative Janice Hawkins coordinated the event with the school.
"It was a blast," Hawkins said. "They came rushing in and they really got into it. They took our questions and just started talking to each other."
The school is starting a pilot program to help the students continue on their path of inclusiveness. "Lunch and Learn" will include small groups of students who lunch with a teacher with the goal of learning about each other and from each other.
Next year, Sunshine Health and Centene hope to partner with more Florida schools for this event. If your school is interested in joining, please email David Carrasco at dcarrasco@centene.com and put "No One Eats Alone" in the subject line.