News
Teens Break the Stigma at Mental Health Summit Sponsored by Sunshine Health
Date: 05/06/22
Fort Lauderdale, Florida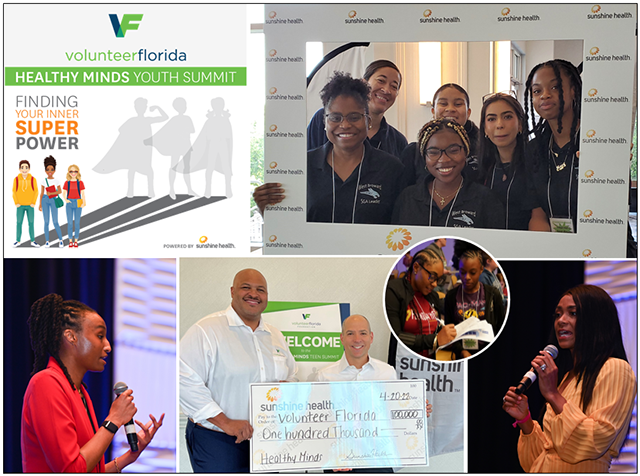 About 75 Florida middle and high school student leaders gathered in Orlando recently to talk about normalizing mental health as a critical self-care topic at Volunteer Florida's Healthy Minds Teen Summit, which was sponsored by Sunshine Health.
Breaking the stigma was the number one topic for these teen leaders, who learned about strategies and resources to take back to their peers to help deal with everything from the stresses of everyday life, to dealing with severe trauma.
Inspirational speakers helped motivate the teens and shared their stories about mental health. Former college basketball star turned business owner Iman MacFarland introduced three-time Olympic Gymnast Dominque Dawes.
MacFarland, who has long worked alongside Sunshine Health's parent company Centene and the Pro Football of Fame delivering messages to youth about remaining resilient and embracing uniqueness, reminded the teens that if they are true to themselves, they can change lives. She reminded them that that's their superpower. Finding your superpower was a theme repeated throughout the weekend.
The teens listened intently as Dawes talked about the many challenges she's faced, her fears about not being good enough even as she excelled on the mat, and her methods for developing healthier outlooks.
The National Alliance on Mental Illness and basketball superstar Magic Johnson also addressed the teens.
As powerful were the times the teens got to speak to each other. Break-out sessions and workshops filled the 3-day summit.
"Being a teenager is hard enough. Add in a pandemic, and our young people are struggling through some intense and uncharted territory," said Volunteer Florida CEO Corey Simon. "The Healthy Minds Teen Summit served to lift Florida's youth, both their spirits and their voices, giving them a place to talk about their issues as well as helpful tools to work through them. I am immensely thankful to Sunshine Health and all our healthcare partners and inspirational mentors who joined together in service to Florida's next generation and their mental well-being."
Sunshine Health CEO Nathan Landsbaum addressed the youth leaders the first day.
"I knew they weren't there to hear some CEO talk," said Landsbaum. "I kept it short, but I loved watching as they stayed engaged with every single speaker, nodding and some taking notes. These kids are growing up in a different world than most of us did. And we need to arm them with all the support we can. I'm glad Sunshine Health was able to help Volunteer Florida put together this summit and send these teens home more empowered and tapped into their inner superpowers."