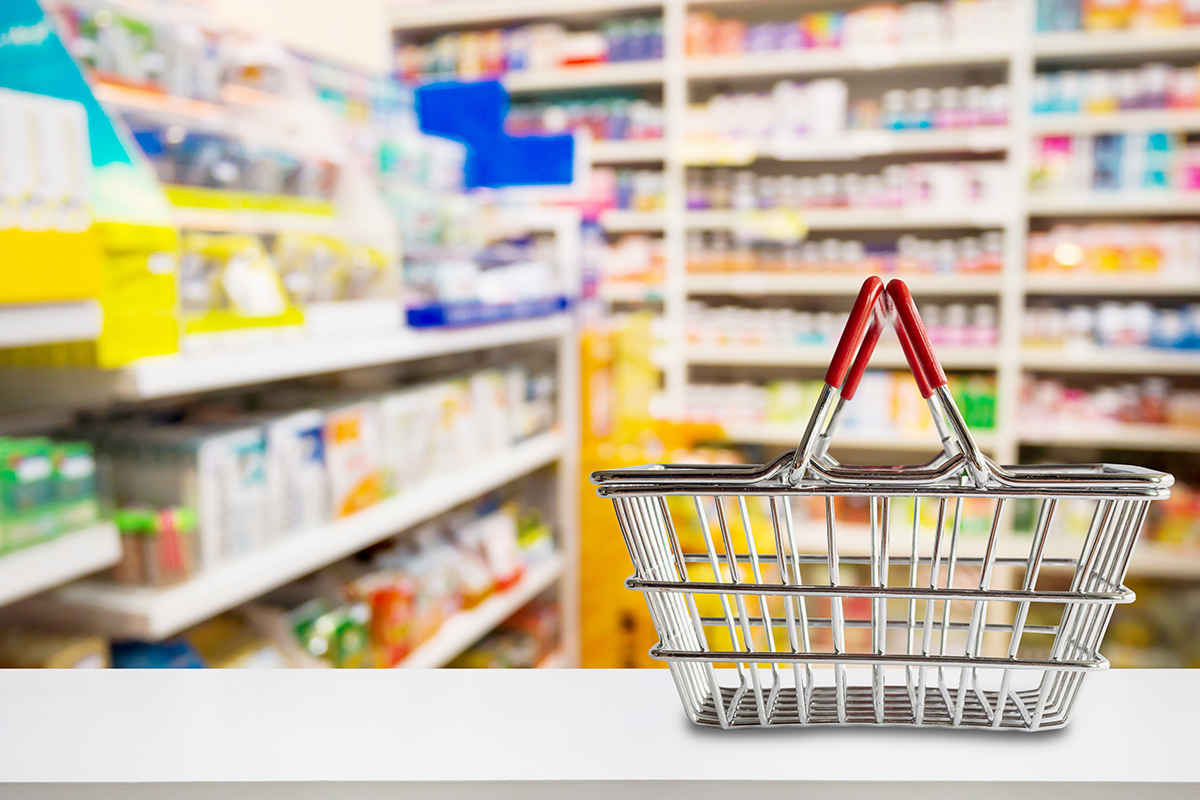 As of January 1, 2023, CVS will manage Over-the-Counter (OTC) benefits.

It's easy to use the $25 a month benefit
Use $25 a month to buy items like baby wipes, diaper rash ointment and chewable vitamins. You can also get everyday items like laundry detergent, soap and toothbrushes.
If you previously ordered OTC items through Acaria or the Envolve OTC mobile app, you will need to place orders via phone with CVS.

Frequently Asked Questions
The fastest and easiest way to order 24/7 is by the online OTC booklet. Online orders must be sent by 11:59 p.m. Eastern to be processed the same day.
How to place an order through our website:
Create an account
If it is your first time placing an order online, you will need to create an account.

Choose the "Create Account" button and follow the steps.
You will need your member ID, date of birth, ZIP code and current email address. Each member registering needs to have a separate email address. If a member shares an email address with a spouse or caregiver who also has an OTC account, they will only be able to register one account.
You will also need to create a password.

If you need help to find your member ID, select "Get help locating your member ID."
Remember to save your password for future orders. You will need your member ID or email address along with your password to sign in again.
If you forget your password, choose the "Forgot Password?" button to make a new one.
Place an order
Once you sign in, your benefit amount and balance will show at the top of the page.
Search through the available items and add to your basket. Your order total will be taken from your balance.
Once you are ready to place your order, choose "Checkout."
You will receive email notifications with the latest status updates as we're processing your order.
Please review the order frequency limits found on the FAQs to avoid missing benefit amounts.
Reminder: Orders must be placed by 11:59 p.m. Eastern of the last day of the month. Orders can only be cancelled within 30 minutes after being processed.
The OTC benefit offers you an easy way to get generic over-the-counter health and wellness items by going to any OTC Health Solutions-enabled CVS Pharmacy®, CVS Pharmacy y mas®, or Navarro® store. You can also order by phone at 1-888-262-6298 (TTY: 711). You order from a list of approved OTC items, and OTC Health Solutions will mail them to your home address.
Call OTCHS using the phone number on file.
Note: The phone number on file is the number provided to OTCHS by your child's health provider. If you wish to use a different number to order through the IVR system, you can provide it to an OTCHS agent to be added to your account.
Once the system finds your account, enter the date of birth in MMDD format.
The system will verify the name and address on the account.
Please enter the number of the item code.

Example: If you want to order item "B33 unscented wipes," you will select "33" and wait for the prompt to confirm the item. The system will read back the item name and quantity and ask if the selection is correct. Please allow the system to complete the statement before making your selection.
If yes, the item will be added to your cart.
If no, the system will allow you to edit the item or the quantity.

Once the order is completed, you will have the choice to review the items in the cart or place the order.

If you place the order without review, the system will give you a confirmation number and the call will end.
You can review your order, edit the items, start over, place the order, or speak with an agent.
Note: If you choose to speak to an agent, your items will not be saved, and you will have to restart your order.
You can pick up the OTC items at any OTC Health Solutions® (OTCHS) enabled store. To find the closest location, use the store locator.
How to use OTC Health Solutions benefits in store:
Refer to the health plan OTC booklet (PDF).
Find approved items in the booklet. Only the items listed in the booklet are available through a member's plan.
Go to any OTCHS enabled CVS Pharmacy®, CVS Pharmacy y mas®, or Navarro® store.

IMPORTANT: Not all CVS stores participate in this benefit. To find the closest location, use the store locator or call OTCHS at 1-888-628-2770 (TTY: 711).

Look for the OTCH indicator on the top right of the shelf label and review the SKU number for item eligibility. Items are in the dedicated OTCHS section or in the aisles throughout the store.
Go to any front store register to check out and give the cashier your child's member ID card.
Not all items are available in all stores. If your item is not available, call OTCHS or visit your child's plan web page to process your order.
Please note that the regular retail price in the store may vary. For prices that apply when you use OTC benefits, please refer to this booklet. Item prices cannot be combined with promotional offers or ExtraBucks® Rewards. Not all items will be carried in all CVS® OTCHS enabled stores.
You receive $25 a month to use on OTC products.
The $25 OTC Benefit is available per household.
The OTC benefit can be used multiple times throughout the month.
Unused benefit amounts do not roll over to the next month.
You cannot order more than one benefit amount by phone. However, you may go over the benefit amount at an OTC Health Solutions-enabled CVS Pharmacy®, CVS Pharmacy y mas®, or Navarro® store and pay the difference out of pocket.
Not all items are available in stores. Items marked with a "dot inside a circle" in the booklet can only be ordered over the phone or online.
There is no limit on the number of items you may order. You can order up to 3 units per any single item, per month/quarter. There are some items that have special limits. These are marked with a "star" or "square" in the booklet.
Most orders will arrive in less than 7 business days. It may take longer during peak volume periods as well as for orders that have hazardous items. If you have not received your order within 14 days, please call OTC Health Solutions at 1-888-262-6298 (TTY: 711).
Once the order has been placed, you will receive a confirmation number. Always make sure to receive and keep your confirmation number.
You can use our automated IVR system or opt in to receive tracking information by email or text. Simply advise an agent when placing your order.
You will receive a digital version of the OTC booklet (PDF) with every tracking email/text. You can also order a copy using our automated IVR system, calling OTCHS, or by printing one from the plan web page.
In the OTC booklet (PDF), you will find SKU numbers that can be used at CVS to look up the images and ingredient information.
Items are shipped via USPS to your home at no charge to you. If you have not received your items within 14 days after ordering, please call: 1-888-262-6298 (TTY: 711), Monday to Friday, 9 a.m. to 8 p.m. local time.
To order certain vitamin and mineral supplements, it is recommended that you talk with a physician before placing an order.
Items in the booklet are for personal use and may be ordered only for the enrollee.