Pregnancy and Newborn Services
Prenatal care is an important way to keep your child's baby healthy during the pregnancy. These regular checkups allow doctors to find and treat health problems early, if needed. They also help make sure your child's baby is growing and developing properly.
It's important to see a doctor as soon as your child is pregnant. We can help find an OB-GYN for your child. Use our Find a Provider tool or call Member Services at 1-866-799-5321 (TTY 1-800-955-8770).
Please let us know when your child is pregnant by logging in to our secure member portal and filling out a Notice of Pregnancy form.
Start Smart for Your Baby®
Our Start Smart for Your Baby® program provides customized support and care for pregnant women and new moms. This program focuses on a child's health during the pregnancy and the baby's first year.
Start Smart for Your Baby® offers these benefits at no cost:
Information about pregnancy and newborn care
Community help with housing, food, clothing and cribs
Breastfeeding support and resources
Experienced and licensed medical staff to work with your child and doctor if any issues occur during the pregnancy
Text and email health tips for your child and the newborn
Additional services:
CMS Health Plan provides doula services for members' ages 13 to 20 with a goal of improved birth outcomes, reduced pre-term births and improved prenatal care. Prior authorization is required.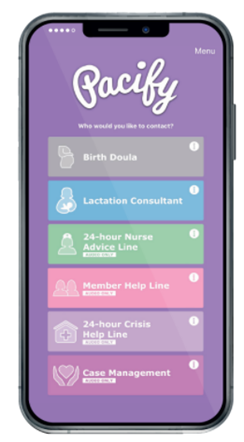 Did you know? CMS Health Plan now offers access to Pacify memberships – at no cost!
Pacify connects you with:
Birth Doulas: Available 24/7 via video to answer any questions about your pregnancy and help you prepare for a safe delivery.
Pacify Lactation Consultants: Available 24/7 via video for breastfeeding support and feeding-related questions.
24-hour Nurse Advice Line: Available 24/7 via phone to help if you or your baby are feeling under the weather.
Member Help Line: Available 8 a.m.- 8 p.m. Eastern Monday-Friday via phone for help with food, housing, utilities, and more.
24-hour Crisis Help Line: Available 24/7 via phone to help if you need crisis support.
Case Management: Available 8 a.m.- 8 p.m. Eastern Monday-Friday via phone to help with benefits, finding a doctor, or scheduling an appointment.


All at the touch of a button! There are no appointments required and you can call as often as you need to.
Start your membership today – it's easy! Follow the steps to receive your membership code.
Note: Pacify is only available to download in the App Store or Google Play Store.