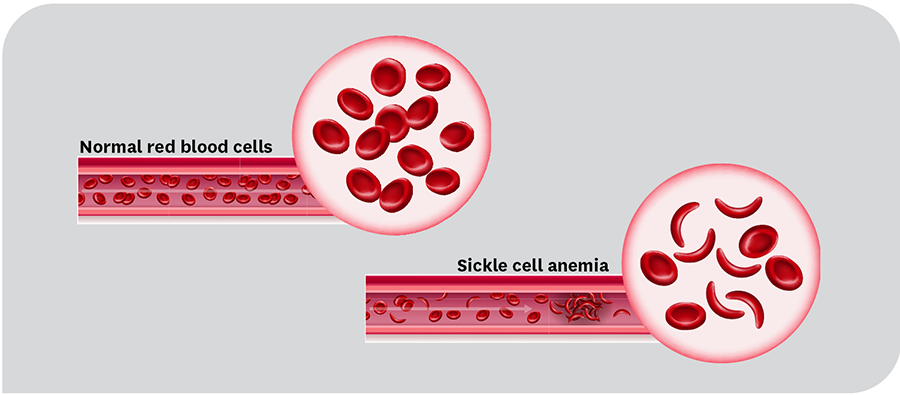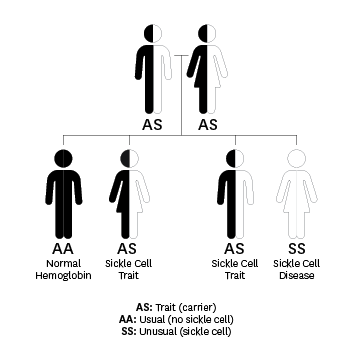 A child has sickle cell disease when they receive two sickle cell genes – one from each parent. It causes red blood cells to change into a crescent or sickle shape. This causes a shortage of healthy blood cells in the body, which can cause blood clots, pain and other symptoms. It also weakens the immune system, which makes it easier to get sick.
Infographic description
AS + AS =
(Sickle cell trait carrier+ trait carrier)
AA (25%) Normal hemoglobin
AS (25%) Sickle cell trait
AS (25%) Sickle cell trait
SS (25%) Sickle cell disease
Source: Sickle Cell Society

Know the signs. Signs of sickle cell disease start in the first year of life and can be different from person to person. Symptoms can range from mild to severe and usually worsen over time. Examples include:

Swelling in the hands and feet
Extremely low energy
Anemia, or shortage of red blood cells to carry oxygen through the body
Pain in the chest, stomach or bones due to sickle cells blocking the blood vessels
Acute chest syndrome, or blockage of blood vessels in the lungs
Organ damage to the brain, heart, lungs, kidneys or eyes

Make a routine. Your child must take medicine as directed to manage their sickle cell disease symptoms. Use these tips to stay on top of their treatment:

Use a daily pill box
Set an alarm to help you remember to give your child their medicine
Talk to the doctor or pharmacist if you have concerns about side-effects or have a hard time refilling your child's prescriptions

Some patients can be cured of sickle cell disease with a bone marrow transplant. But that is not a good option for everyone. Symptoms of sickle cell disease can be managed with medication and long-term treatments, like:
Hydroxyurea – The medicine can prevent or slow down damage to your child's organs by making their red blood cells bigger and more flexible. People who use it have less pain and fewer acute chest syndrome episodes, as well as fewer blood transfusions and hospital stays. Most sickle cell disease patients take this medicine by mouth once a day
For patients 2 years and older.
Endari (L-Glutamine) – This is an amino acid, which the body naturally makes to prevent and fight infections and pain. It can help people with sickle cell disease better handle pain by slowing damage to red blood cells. The treatment comes in powder form, which patients can mix into food or water to take. It can sometimes be used together with Hydroxyurea.
For patients 5 years and older.
Oxbryta (Voxelotor) – This medication decreases hemolysis, or the breaking down of red blood cells. It makes blood cells stronger so they can carry more oxygen through the body. The drug comes in pill form and can sometimes be used together with Hydroxyurea.
For patients 4 years and older.
Adakveo (Crizanlizumab) – This medicine works by slowing or stopping red blood cells from sticking to blood vessel walls, which allows blood to flow more easily. This limits how often sickle cell disease causes your child pain. The drug is administered through an IV once a month and can sometimes be used together with Hydroxyurea.
For patients 16 years and older.
Note that these medications may require prior authorization from CMS Health Plan. These medications can help your child live longer and with less pain. Taking them regularly can help prevent sickle cell complications and reduce trips to the hospital. Talk to your child's doctor about their treatment options.

Your child's Care Manager can help connect you to services and supports for children with sickle cell disease. Here are some examples of benefits your child may qualify for:
Benefits
Visual Care Services – Services that test and treat conditions, illnesses and diseases of the eyes. Covered as medically necessary. Prior authorization may be required.
Evaluation and Management Services – Services for doctor's visits to stay healthy and prevent or treat illness. Covered as medically necessary.
Laboratory Services – Services that test blood, urine, saliva or other items from the body for conditions, illnesses or diseases. Covered as medically necessary. Prior authorization required for genetic testing.
Pain Management Services – Treatments for long-lasting pain that does not get better after other services have been provided. Covered as medically necessary; some service limits may apply. Prior authorization required.
Flu/Pandemic Prevention Kit – One flu/pandemic prevention kit; 10 three-ply face masks; oral digital thermometer; hand sanitizer. For the first 1,000 members who have received their flu vaccine.
Immunizations – Sickle cell disease weakens the immune system, so staying on top of vaccines is key. Schedule a Well Child visit and talk to your child's primary doctor about the immunizations available to them.

Remember, your child may be eligible for cash rewards for completing a Well Child visit and getting certain vaccines. Visit Rewards or contact your child's Care Manager for more info.

Sickle Cell Disease Association of America, Inc.: A nonprofit supporting research, education and funding for people with sickle cell disease. Find clinical trials, educational information and more.
Get Connected: A patient-powered registry that helps you connect with others affected by sickle cell disease. Register to find resources on sickle cell healthcare services, clinical research and behavioral health.
Sickle Cell Connect: A nonprofit that connects sickle cell patients with bone marrow donors and supports the transplant journey. Find helpful videos and resources, like personal stories from other sickle cell patients and questions to ask your child's doctor. Also get one-on-one support to navigate your child's treatment options.
Sickle Cell 101: Find patient-friendly information on sickle cell disease that is simple and easy to understand with Sicklepedia, an online sickle cell encyclopedia. Also access educational guides on nutrition, treatments and more for people living with sickle cell disease.

Contact your child's Care Manager for more information about any of these resources. You can also call Member Services at 1-866-799-5321 (TTY 1-800-955-8770), Monday through Friday, 8 a.m. to 8 p.m. Eastern.