As part of Caregiving Collaborations®, Sunshine Health offers a journal for our members' caregivers. Our Caregiver Journal provides tips and encouragement, as well as a place to record information and track concerns or strategies. It can help caregivers stay organized and serve as a guide for daily routines to help make their jobs easier.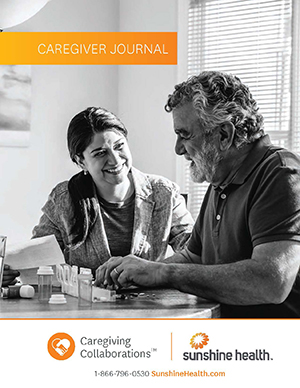 Our Caregiver Journal includes:
Member's medical information, including medication and medical equipment lists
Contact information for your loved one's doctors, specialists and other providers
Emergency planning information
Legal information, including advance directives and healthcare surrogate forms
Education and resources
The journal has a back pocket to store important documents, such as your loved one's care plan, lab and radiology results, medication information, hospital discharge summaries and allergies.
How to access our Caregiver Journal:
The National Caregivers Library offers additional resources that may be helpful to caregivers:
Office Visit Checklist
Medical History Form
National Caregivers Library Caregiver's Document Organizer